Click Here to Subscribe via iTunes
Click Here to Subscribe via RSS Feed (non-iTunes feed)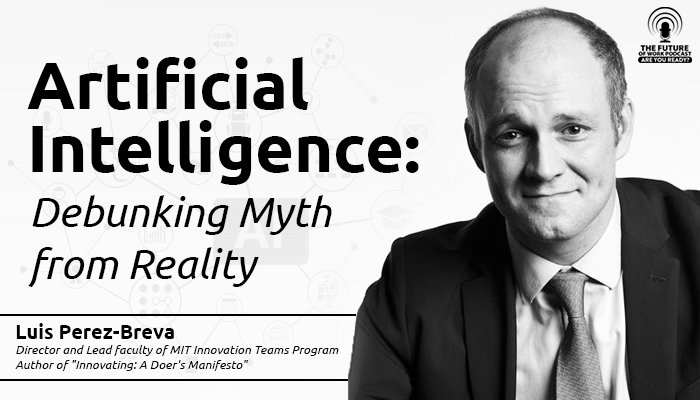 Luis Perez-Breva, PhD is an expert in the process of technology innovation, an entrepreneur, and the author of Innovating: A Doer's Manifesto for Starting from a Hunch, Prototyping Problems, Scaling Up, and Learning to Be Productively Wrong. (MIT Press 2017).
Currently Perez-Breva directs the MIT Innovation Teams Program, MIT's hands-on innovation program jointly operated between the Schools of Engineering and Management. During his tenure, i-Teams has shepherded over 170 MIT technologies to discover a path to impact. He has taught innovating as a skill worldwide to professionals and students from all disciplines; and has gotten them started innovating from pretty much anything: hunches, real-world problems, engineering problem sets, and research breakthroughs.
There is a lot of confusion around the term Artificial Intelligence – AI. What is it?
"Today AI is essentially an aspiration. What we do have is – a lot of – automation, machine learning, data learning and robotics." The dream is to have a partner. Google show how you would operate with AI. You go into Google, use keyword and can get the information you need. We are all more powerful because we can so readily go onto Google to find answers. Siri and Uber are neither really 'intelligence'. Intelligence is much harder than what we thought.
Does Perez-Breva think job displacement will happen? He believes we are confusing AI with automation. Automation has always made jobs 'disappear'. For example, gas lights, now we have light bulbs. We have always had jobs be lost to automation. The question is to how do make sure we are training leaders so that they are creating those new jobs into the middle class.
Automation can create gateways to the middle class – such as Ford did 100 years ago. If you don't find a new job, it is a lack of imagination.
Robots are in all of our local coffee shops – are they taking the jobs of humans?
Not as easy as it might seem…the number of robots that would need to be produced and maintained is massive. One robot in one coffee shop is an example of human endeavors but one in every coffee shop seems a bit of a reach.
What you will learn in this episode:
● Who's right? Musk, Hawking or Zuckerberg?
● Perspective on self-driving vehicles
● What is AI?
● How long will it take to achieve AI?
● What is the difference between intelligence and awareness
Links from the episode:
The post Artificial Intelligence: Debunking Myth From Reality appeared first on Jacob Morgan.